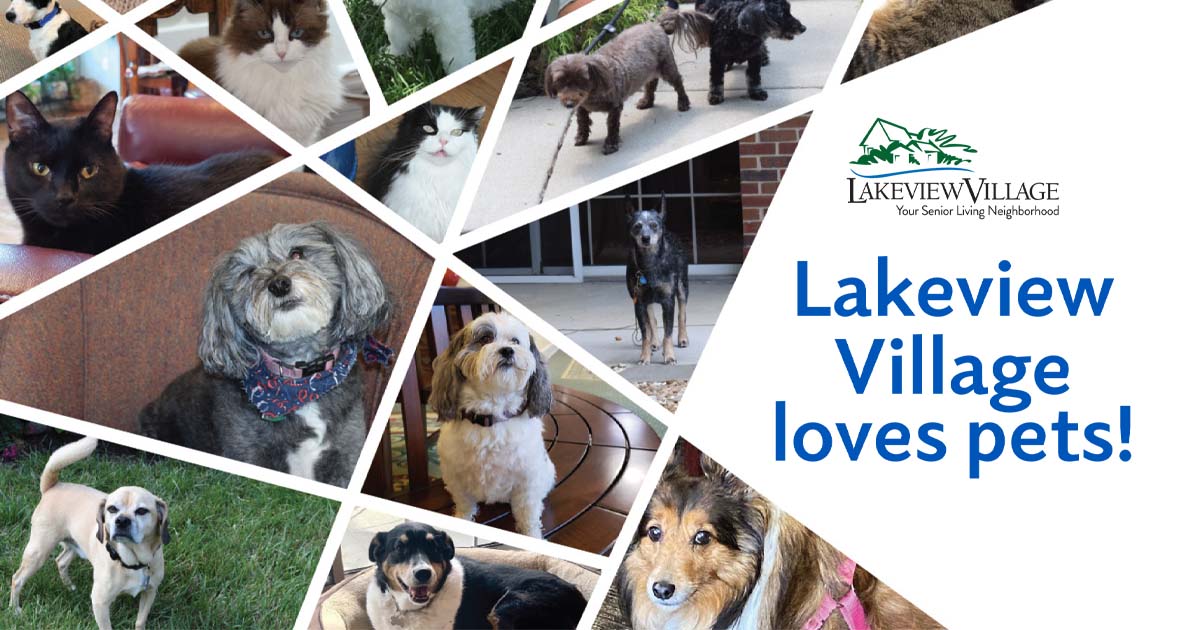 New off-leash dog park in 2022 comes to Lakeview Village
Wagging tails and purring head rubs tells us everything we need to know about our pets' unconditional love for us. It takes a matter of seconds when we come through the door before we begin to reap the benefits of their affectionate behavior. Science shows that our body will actually go through physical changes that improve our mood, thanks to our furry friends.
Lakeview Village understands the importance of our four-legged family members. So much so, they are building a private, off-leash dog park for "residents only" to open in the spring of 2022. Couple that with 100-acres of lakes and trails in a beautiful neighborhood and it's clear why pet owners chose Lakeview Village.
"I'm excited about the new dog park.  It will be nice to have an off-leash area for Arlo," says Ginny Morgan, Lakeview Village resident who moved into a cottage which gives her a yard for her Border Collie.
Lakeview Village is the perfect retirement community for anyone with a pet. All sizes are welcomed!  It played a significant role in Ginny Morgan's decision to move to Lakeview Village.
"We love our new neighborhood. Lakeview's 100-acres played a big part in choosing to move here. When I walk Arlo I have lakes and trails, and I can actually be in nature."
Kathy Bailey is another happy dog owner at Lakeview village who lives in an apartment on the first floor with a walk-out patio.
"Rusty loves being around other dogs so having my patio entrance makes it so easy to get outside quickly," says Kathy.  "I'm very much looking forward to letting Rusty off his leash at the dog park to play with his friends."
Visit Lakeview Village Retirement Community where pets are not our whole life, but they make our lives whole.  According to research, they make us healthier too!
Seniors Reap Health Benefits from Pets
Cuddly companions reduce loneliness
Our pets are always there when no one else is around providing consistent companionship. Dogs show gratitude and affection by jumping in our laps and licking our faces! Cats show gratitude and affection in a way that, well, only each cat owner can know for sure. A study published in Aging and Mental Health shared results from a survey of 830 people 60+. It revealed that pet owners were more than a third less likely to feel lonely than non-pet owners.
Pets promote fitness
When pets want our attention, we know it! Every time they ask for food or water, for play or for a walk outside they force their human owners to get up out of their chairs and do something about it.  A recent study published in Scientific Reports found that dog owners are four times more likely than others to meet today's physical activity guidelines. People won't always take themselves on a walk, but they will take their dog!
Pets lower our stress levels
A study done by the National Institute of Health along with WALTHAM Centre for Pet Nutrition found that when humans interact with animals, levels of cortisol, a stress-related hormone, decreases. They found even having a pet fish and watching it swim around can reduce cortisol levels in the body.  This is one reason why therapy dogs are taken into hospitals for patients facing a difficult diagnosis or treatments. One study found patients became more cooperative when a therapy animal was around.
Friendly canines instigate social interaction
Dogs seem to never meet a stranger.  Dog-to-dog encounters force the owners to meet and greet, too.  Studies show that when someone admires your pet, they will likely remember you again. To keep social interactions pleasant, remember that some homeowners aren't fond of dogs walking through their flower bed or mistaking their yard for the facilities.
Pets give us purpose and boost our confidence
A study from Miami University showed that people who owned pets had higher levels of self-esteem.  Some of that has to do with being more active, and some of it has to do with feeling less fearful and preoccupied.  It also has to do with feeling more purposeful because there is a breathing creature relying on us for their care. Side note: people who were close to their pets were also closer to their friends and relatives.
If you're looking for a pet-friendly retirement community please consider Lakeview Village.  Give us a call at 913-744-2449 or email info@lakeviewvillage.org.   Come see for yourself!