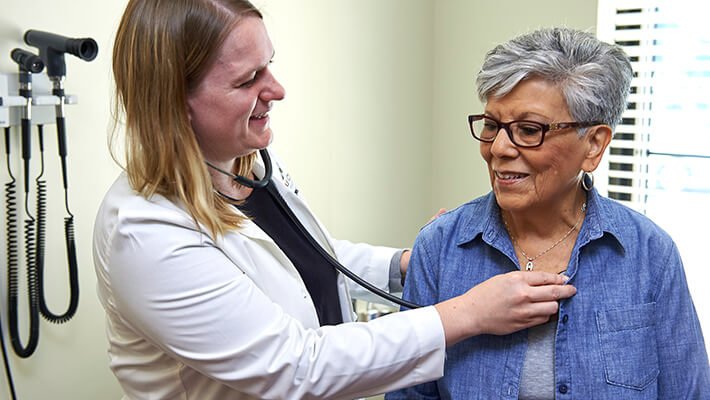 Curana Health
Providing a full range of quality care right where you live.
Curana Health at Lakeview Village is your partner in health, whether helping you manage day-to-day health concerns, or providing care during an acute illness. Our state-of-the-art clinic is conveniently located on the first floor of Eastside Terrace. In addition to serving residents of Lakeview Village, we offer services to community members age 55 and older.
Personalized care from a dedicated medical staff.
You may wish to designate members of the clinic staff as your primary care provider. Practitioners currently seeing patients in the Lakeview Village clinic include:
Clinic Phone Number: 913-374-0218
Stephanie Garcia, DO, Medical Director
Several specialists see patients at our clinic on select days each month. Please contact the specialist's office directly to schedule these appointments.
Heather Anderson, MD, Neurologist, 913-374-0218
Raphael Nguyen, DPM, Podiatrist, (913) 432-2000
Linda Erickson, AUD, Audiologist, (913)262-5855
Walk-In appointments available.
The Lakeview Village clinic can accommodate walk-in appointments most weekdays. You do not have to be a patient of the clinic to see one of our practitioners. If you have an urgent medical need, we can assist you in the clinic. This includes an evaluation after a fall and treating any cuts or minor injuries.
The convenience of an on-site lab.
Our clinic offers lab services on Tuesdays and Fridays from 9 a.m. to 11:30 a.m.  Same-day results are available for most testing.  No appointment is necessary to use this service.
Continuity of care after hospitalization.
Our physicians work closely with hospitalists for a seamless transition from hospital to home. Plus, our nurse practitioner is available in the clinic daily, so you can see the same provider from visit to visit.