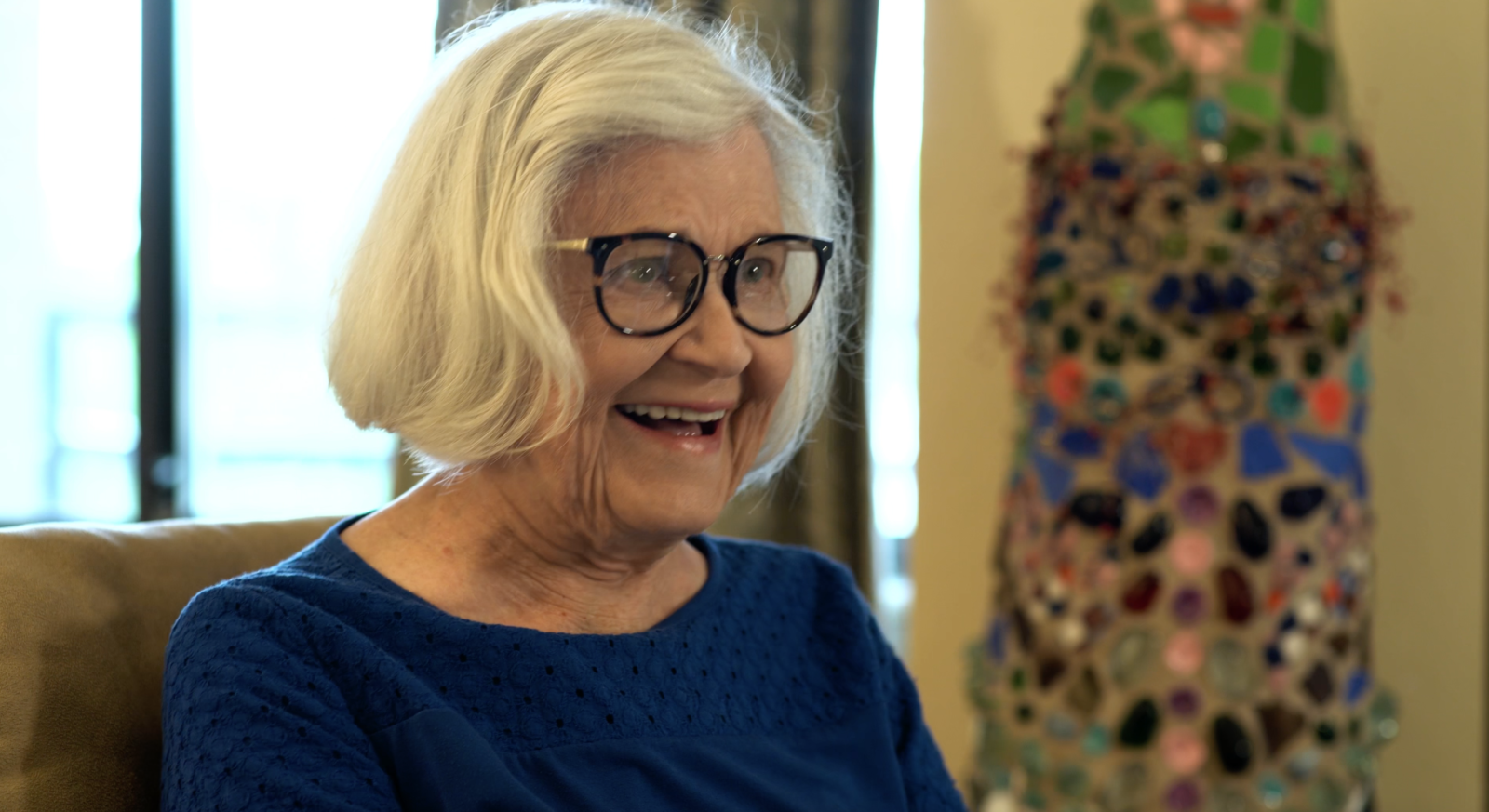 Jo Cunningham – Abstract Artist
Jo Cunningham is a seasoned artist who loves to express herself through steam punk art, abstract oils and playful sculptures. Her love of art started as a child. This daughter of missionaries was born off the west coast of Africa in the Cape Verde Islands where the colors were vibrant and worldly.
While her artwork started like many artists with still-life sketches and paintings, today Jo's art has evolved into abstract pieces that are reflective of her experiences, her joyful personality and her real-life feelings. For example, one of the brightest paintings hanging in her home today is of her backyard when the kids were little and her husband Forrest was working long hours as a naval office in Washington, D.C.
"We had a wonderful little backyard and a high balcony that looked down out into the yard and I always had a lot of bright colorful flowers out there. That picture is of that backyard, but it's an abstract so you see the sun and the grass. You see the color of the flowers but not particularly where they should be. I've just put those colors in there in a pleasing way."
The most common theme found in Jo's artwork is a strong connection with people and memories. Sometimes that's about a former home and other times it's creating a piece inspired by a favorite rock n' roll song.
"I had something in my mind and started to poke at it, and I suddenly started thinking…Ground Control to Major Tom – a song by David Bowie."
From there Jo created a whole series of abstract images reflective of something we might envision in outer space. Another series of all white dimensional pieces came from her love for her sister who developed cancer and passed away too soon in life.
"She and I were very close, so I wanted to express that pain. I had her little chemo hat as she called it that she wore when she had cancer, and I asked her daughters to give me one of her nighties."
Jo took the hat and the nightie, tore it into pieces, added rope to illustrate the bind cancer placed on her sister, dipped it all into white paint to create a series of dimensional pieces – one for herself and one for each of her sister's daughters.
"I think it looks kind of like my sister got up and left her messy bed which is kind of what she did when she passed away."
Jo spends about three days a week in the art studio at Lakeview Village Retirement Community sharing her feelings through art. You can see one of her recent sculptures in the Lakeview Village Art Gallery – a steampunk sculpture that reflects her life with Forrest.
"I love doing steam punk! Steam punk has to do with old gears and old objects."
Starting with a bare wooden birdhouse, Jo pulled together small objects like old buttons from her favorite clothes, Forrest's military dog tags, watch gears and other odd objects to create an amazing reflection of their life. Go check it out at Lakeview Village's Art Gallery or see it in the video above.
While Jo has been creating art her entire life, she says retirement is a wonderful time to give art a try. She says just pick up a paint brush, or a hobby store birdhouse or anything else that you find inspiring and let your feelings show. You might be amazed at what you can create. And if you get stuck you can ask Jo for help. She spends about three days a week in her studio at Lakeview Village expressing herself through color, texture, and her happy laughter.