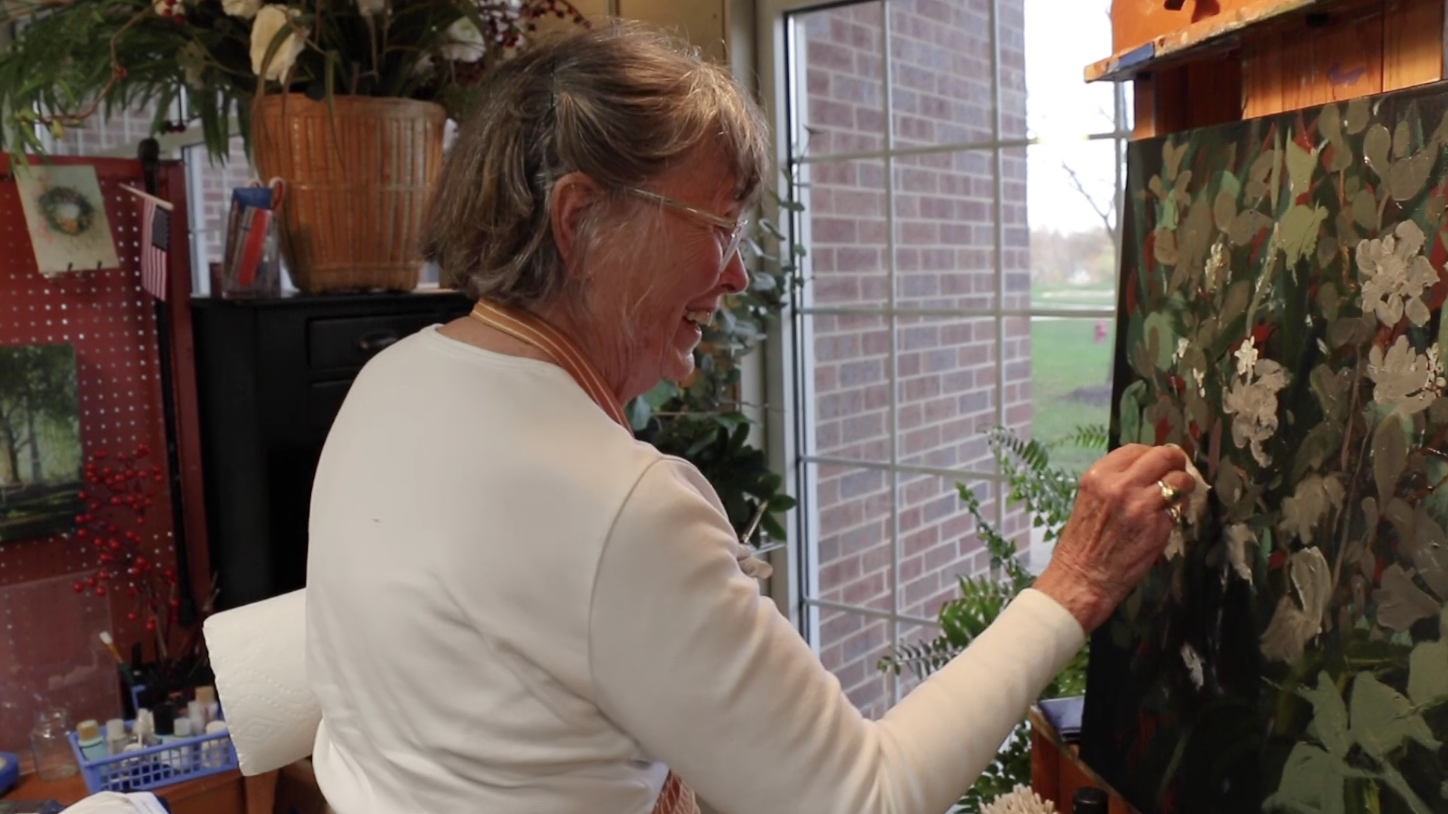 Penny Pate Dillon Paints with Passion
Penny Pate Dillon looks for art wherever she goes – whether that's how the light comes through the trees, the glimmer of a sunset reflecting on the pond when she is on a walk, or how she does the interior design at her Lakeview Village home.  She says she wishes everyone could see the world like an artist.
When Penny was old enough, she went to art school at Washington University and then to University of Texas and went on to earn several art degrees. She then took her talents to the world through commercial work. Over the years she has worked as a graphic designer, floral set designer and fashion designer.
Penny remembers working on fashion design when GAP and Old Navy first started. She said they came to El Paso and brought "fit models" to try on the merchandise for their very first line. Today, she has a painting hanging in her home of one of the fit models from that first moment. Penny said she especially likes it because of the dramatic shadowing across the model's face.
Even though Penny has loved many forms of art throughout her years, her current passion is oil painting. Step into her apartment and you will see a gallery wall filled with oil paintings she has completed over the years.  Most paintings are scenes of nature, with greens and yellows and golds masterfully mixed to create a peaceful moment in time. Also displayed on her wall is a painting of a darker scene at a restaurant, that with a closer look, is a painting of a few people sitting at a McDonalds.
Penny's art isn't contained to just her home at Lakeview Village. Just one floor down is the retirement community's art studio, where Penny spends a lot of quality time creating art. Penny has a spacious section of the studio for just her work and supplies. Her space has a big window where she can look at the community's lake while she paints. She has buckets of paint brushes, as well as oils that are 30 years old that she uses to work on her current abstract painting.
Penny is recognized for her art throughout the United States and Mexico. You can find many of Penny's finished paintings in the art gallery at Lakeview Village.  Click on the video above to hear more about Penny's story.