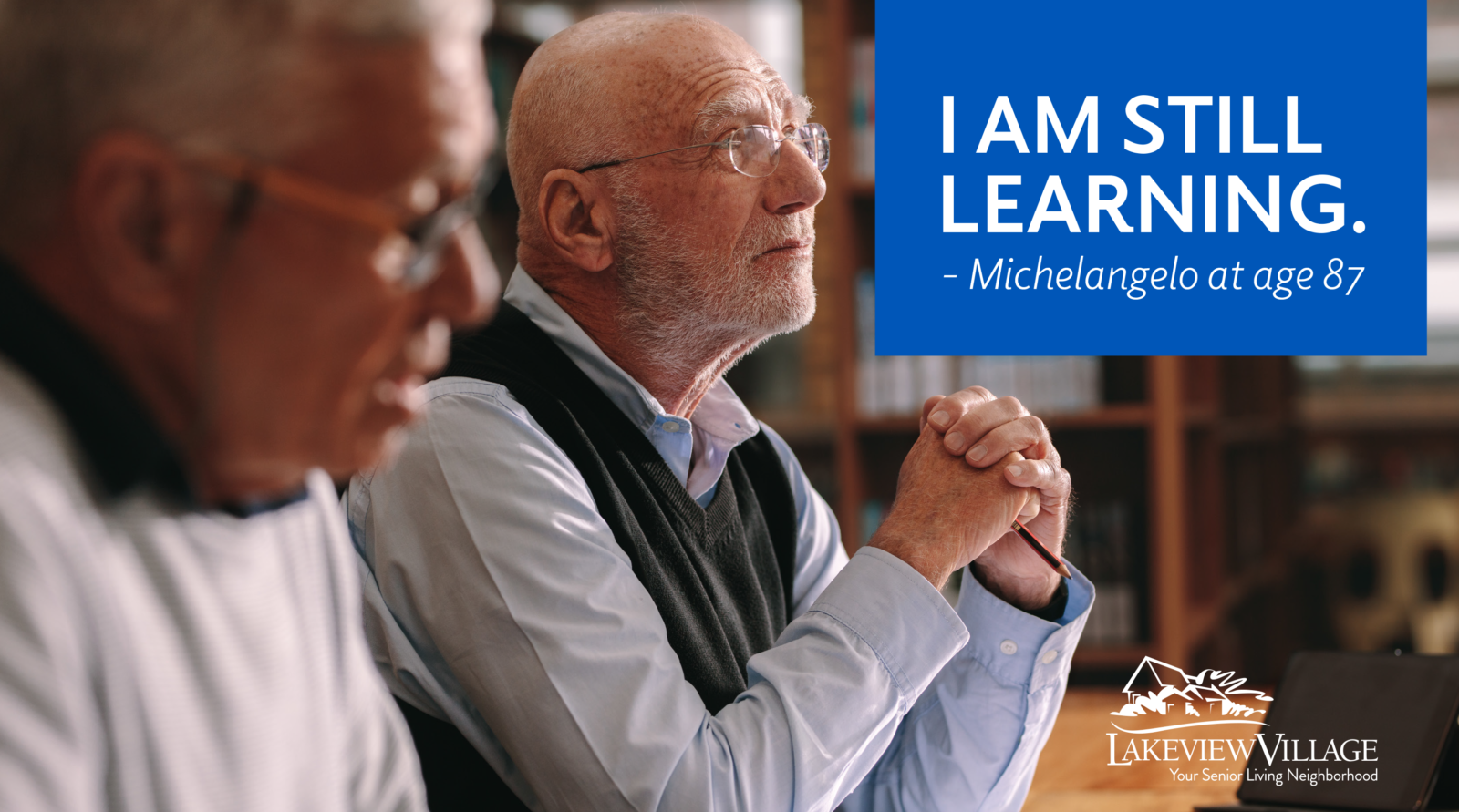 Where Lifelong Learners Live
"I am still learning," is a famous quote believed to have originated from Michelangelo when he was 87 years old.  The painter, sculptor, architect, and poet allegedly wrote it on a sketch he was working on.  He was a true lifelong learner.
Lifelong learners are people who continue to learn well past their formal education years. They read a lot, take courses in their craft and in new ones. They try to understand new perspectives, seek opportunities for new experiences, and even embrace change, all the way into their retirement years.
Three years ago, a group of lifelong learners at Lakeview Village Retirement Community realized the vast wealth of experience and expertise among its own residents so they came up with a brilliant idea: give Lakeview Village residents the opportunity to learn from each other. They created a peer-to-peer college-like curriculum that opens an opportunity for residents to learn from one another's expertise.
Each fall and spring semester, different complementary courses are offered.  Here are a few of the current classes Lakeview Village residents are teaching and taking this fall.
  Medical Bioethics – led by former physicians
  Gerrymandering – led by a member of the League of Women Voters
  Innovation of Automobile Transportation – led by a former auto industry executive
  History of Lakeview Village: Inception in 1963 – led by a former Lakeview CEO, now resident
  Music Appreciation – led by various musicians
Each semester residents who are interested apply for the opportunity to teach a course. Surveys are conducted post-semester to provide the instructor with constructive feedback for improvement and to provide other desired learning suggestions.
Lakeview Village also partners with One Day University which stars the best professors from across the country via the internet. As part of the Lakeview Village lifelong learning program, a group of residents twice a month watch an online lecture and discuss. All Lakeview Village residents have access to the entire One Day University library to watch topics at their leisure.
Research published in the Journals of Gerontology show that when we hit our 60's and beyond taking multiple college level courses at one time is beneficial to our brain health. Learning one skill at a time is always good, but the benefits multiply when varied types of information are learned simultaneously. That's when the real brain magic happens.
Lakeview Village residents are believers in brain strengthening, and many of them live into the six dimensions of whole person wellness by nurturing physical, social, spiritual, emotional, intellectual, and vocational activities.
If you're looking for a retirement community that fosters whole person wellbeing, we want you to consider Lakeview Village Retirement Community in Lenexa, Ks. To learn more, give us a call at 913-744-2449. We would love to introduce you to some lifelong learners like you.
For more information about other amenities at Lakeview Village click here: https://www.lakeviewvillage.org/community-center/