Amelia Earhart's Virtual Visit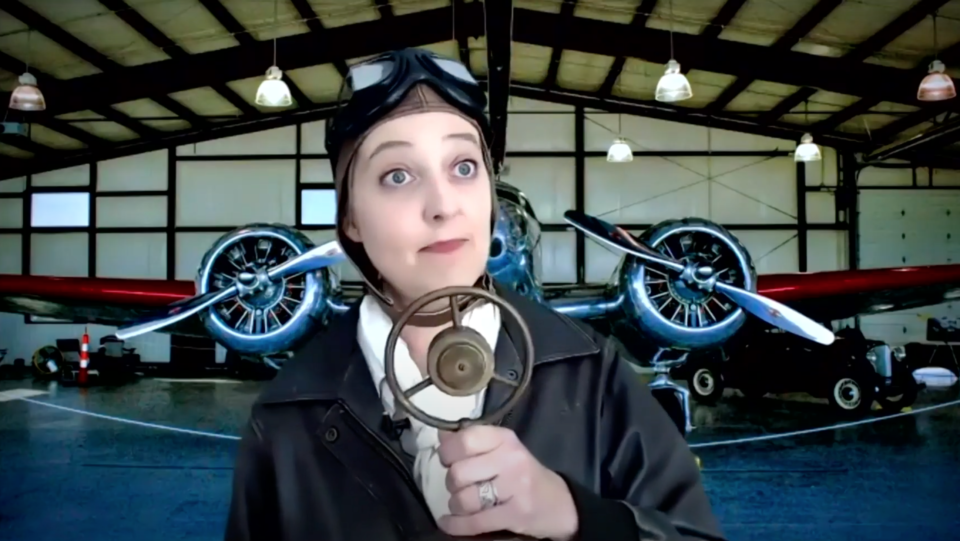 Leslie Goddard is a historian, author, public speaker and historical presenter. She holds a degree in English Language & Literature, a Master's in Museum Studies and a Ph.D. in Interdisciplinary Studies. Plus, she has a theatre degree – a perfect combination for bringing to life various heroines of the past – women like Louisa May Alcott, Georgia O'Keeffe, Eleanor Roosevelt, Typhoid Mary, Rachel Carson, Betty Ford and another Betty, Betty Crocker, just to name a few. The only living heroine Leslie includes on her long list of women she has researched and now speaks about is Queen Elizabeth II.
For a recent Lakeview Village virtual visit, Leslie channels a woman who grew up just down the road – Amelia Earhart.  When she joins us live with her interpretive presentation, she is standing with her twin-engine Lockheed 10E Electra behind her, wearing a bomber jacket, white scarf, leather helmet and goggles.  She tells the audience who is watching online from the comfort of their homes that it is July 1, 1937 and she's in Australia, about half-way through her around-the-world journey.
With her well-written script and historically accurate monologue, Leslie takes us from that moment, not long before Amelia disappears, back to her childhood, giving us vivid examples of the mischief and excitement-seeking young Amelia was capable of.  We learn how she fell in love with flying, how she supported herself to pay for flying lessons, some of her flying female friends and how hard it was for men to grasp the idea of a woman doing what a man was the first to do… fly an airplane.  We learn about the moment Amelia was asked to be the first woman to fly across the Atlantic and the actual flight itself.  She tells about the awkward publicity that followed and how all the attention focused on her instead of those who actually flew the plane.  She told us about her wedding including the pre-nuptial letter she wrote to her husband-to-be and the simple brown pant suit that she wore to her own wedding.
For the 45- minute time travel, Leslie shares a plethora of historically accurate facts about Amelia Earhart, and she entertains us with her interpretive skills.  It was a delightful event sponsored by Lakeview Village.  We can't wait to see what historical heroine Leslie will bring to us next time. To learn more about Leslie go to www.LeslieGoddard.info.