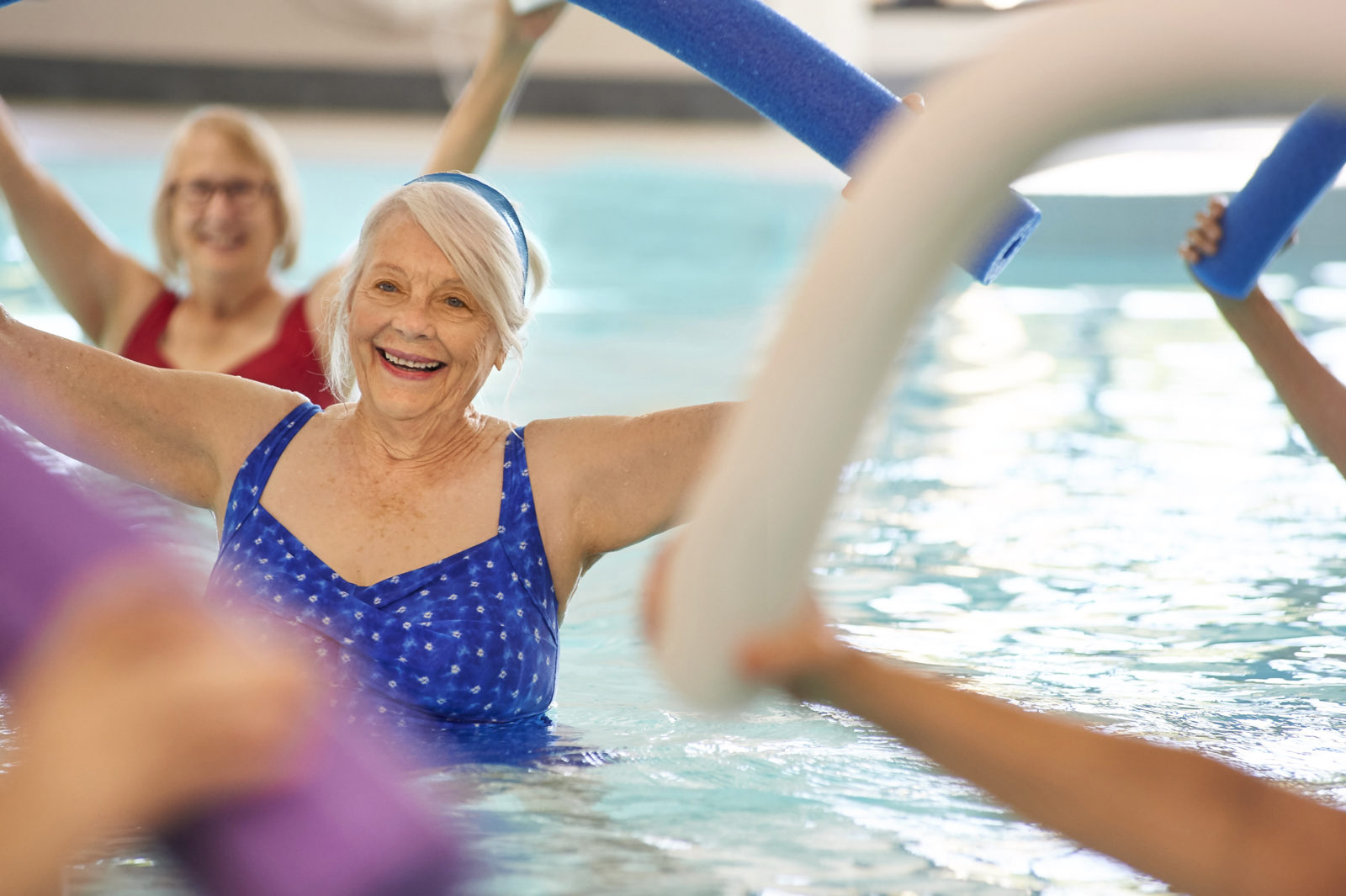 Positive Resident-Inspired Programming
Our forward-thinking residents make Lakeview Village an industry leader.  Their hands-on eagerness influenced us to participate in the industry-acclaimed Age Well Study conducted by Mather Institute* in partnership with Northwestern University.
The health and wellness study is a five-year analysis of the impact of residing in a Life Plan Community.  Through surveys taken annually, residents' self-report responses to questions regarding cognitive, physical, and psychosocial health and well-being. They are then evaluated and compared with results from other residents nationwide.
Residents of Lakeview Village—the only community in the state of Kansas participating in the Age Well Study—are currently completing the Year 3 questionnaire – a process that will wrap up by the end of April 2020.  The study has already positively impacted the culture of Lakeview Village. Here's how.
The Age Well Study at Lakeview Village—Year 1—Year 3
Coordinating the study on-site at Lakeview Village is Shellie Sullivan, Community Life Manager. Sullivan explained that the community's goal for participating in the study has always been to take the information learned and convert it to real life, day-to-day programming that helps all residents at Lakeview Village live a happier, healthier, more active lifestyle. Lakeview Village joined following Year 1 of the study, but the community's administration was guided through important general findings that formed the foundation for Lakeview Village's participation in Year 2 which took place from January to April of 2019.
"Year 2 of the study couldn't have come at a better time for us," Sullivan said. "The Year 1 results were presented just as we started evaluating our community culture to determine ways to inject more purpose and passion into activities programming. We were all very inspired by the study, and our staff went door-to-door to get survey materials into the hands of our 520 IL residents. We were so pleased to get 337 participants."
Data from The Age Well Study—Year 2 was gathered from 5,777 residents in 122 Life Plan Communities nationwide. Researchers reported these general nationwide findings:
Residents with higher scores on personality traits of openness to experience and extroversion reported the highest levels of healthy behaviors.
Residents who form strong bonds within their community tend to have better overall health.
Key factors of resident wellness may be used to inform the development of programs and resources to support resident wellness.
Year 2 findings also demonstrated that compared to older adults in the community-at-large, residents of Life Plan Communities, like Lakeview Village, tend to have greater emotional, social, physical, intellectual, and vocational wellness. And Sullivan was pleased to report the following positive findings specific to Lakeview Village for Year 2 of The Study:
Scored relatively the same as the other 122 participating Life Plan Communities.
Is a very spiritual community, ranking above the national average.
Residents excelled in physical activity, social engagement, healthy diet practices, and meditation/contemplation exercises.
"The great thing about participating in The Age Well Study is that they give you criteria that we—as a community—need to work on, too," Sullivan said. Here are a few things Lakeview Village has started to address:
More than half of the Lakeview Village residents do not consume the recommended amount of fruits and vegetables, Sullivan shared. "Mashed potatoes and desserts just look so much better," she laughs and then tells of the "healthy breakfast initiative." Becky Parshall, dietitian in the Lakeview Village dining services department, began special cooking classes to inspire healthy eating and snacking. Her recent "Overnight Oats Breakfast" class was a big hit, with more sessions planned.
Fight Loneliness & Stress
"I think every community has to be well-aware of loneliness and stress levels," Sullivan said. "The study confirmed that Lakeview Village is no different." To address this need, the Community Life department is working closely with human resources to increase staff involvement by establishing interest groups (20 residents/staff) for each of the community's dimensions of wellness (physical, social, spiritual, vocational, intellectual, and emotional). The purpose is to increase engagement and create new ideas. There's an all-out effort at Lakeview Village to get everyone involved in some way. Many new groups—grief groups, stress workshops, caregiver support groups—as well as resident-inspired interest groups in history, Japanese Culture, heathy cooking, or speaker forums have recently been added. The community's annual Interest Fair is a popular way to keep residents informed about new ways to get involved.
The Community Life department has declared a community-wide—residents and staff—FOCUS ON KINDNESS for 2020. Daily reminders to "up the kindness quotient" are evident throughout the community in an effort to create a closer connection between residents and staff. "All are encouraged to 'be kind to yourself, too—your mind, your body, your spirit,'" Sullivan said. One directive the department posted recently is Think of one thing that made you happy in your childhood and DO IT TODAY!
The Age Well Study at Lakeview Village—Year 3
As an eager group of resident participants complete their carefully crafted surveys for year 3, Sullivan is excited for what they will reveal and how LVV will continue to evolve resident wellness opportunities.  "Our culture is changing to meet the needs of our current residents, and our future residents —a new generation of seniors looking for even more engagement, socialization, and activity of so many different dimensions," Sullivan shared. "No matter how old you are, you want to be part of something, to fit in, to know that you have value—and belong. You'll find it all at Lakeview Village."
Call (913) 744.2449 to schedule a tour of our community and to learn more about our wellness and activity programming. 
[FOOTNOTE:]
*MATHER INSTITUTE in Evanston, Illinois, is a respected resource for research and information about wellness, aging, trends in senior living, and aging services innovations. In order to support senior living communities and others that serve older adults, the Institute shares its cutting-edge research in areas including effective approaches to brain health, ways to enhance resilience, and employee wellness programs. Mather Institute is part of Mather, a nearly 80-year-old not-for-profit organization dedicated to developing and implementing Ways to Age WellSM by creating programs, places, and residences for today's young-at-heart older adults.