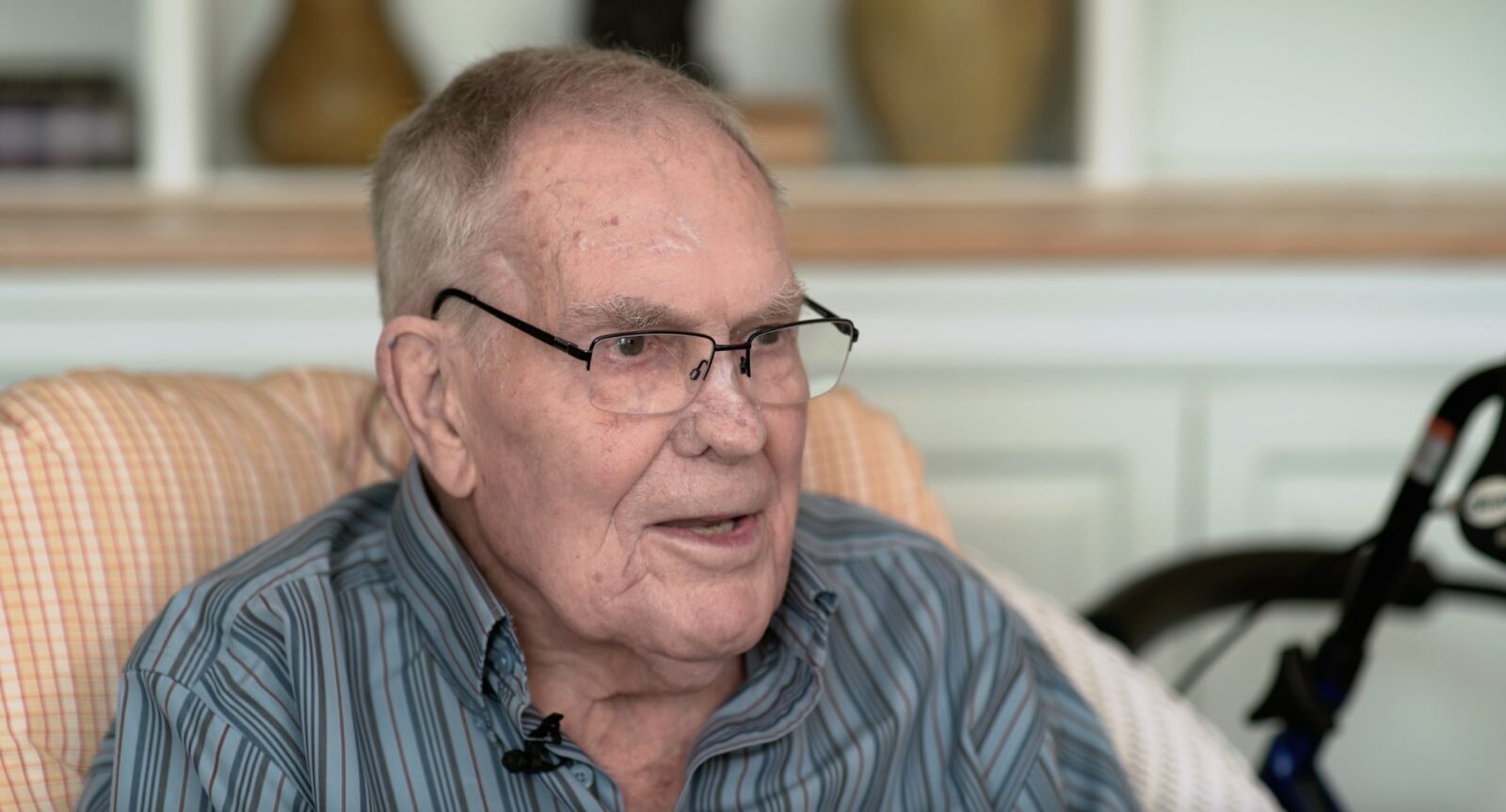 Myron Scafe – Former Overland Park Police Chief
One of Overland Park's most well-known citizens for four decades is now a resident of our senior living neighborhood in Lenexa. Former Police Chief Myron Scafe and his wife Marilyn live at Lakeview Village Retirement Community.
We recently sat down with Myron to reminisce about his years on the force from 1954 to 1995. Besides learning about a few notorious crimes that occurred on his watch, we discovered just how progressive the police department became under Myron's leadership.
Overland Park Police Department leaders created several "firsts" for the Kansas City area from crime prevention programs to public crime solving programs. Crimestoppers and School Resource Officers had proven to be successful in Arizona and Myron's team noticed. In the 80's they adopted both programs in Overland Park and the concept spread across Shawnee Mission and much of the metropolitan area. Both are still highly successful today.
Overland Park also created one of the most prestigious police training academies in the region. Their training was so impressive, it was noticed by federal agencies like the FBI which started hiring Overland Park officers away from Chief Scafe's department. In one year, five OP officers left to work for federal agencies.
When computers came on the scene, Myron said his IT gurus and officers came up with new ways to use the technology. They were one of the first in the area to computerize the dispatch.
"It used to be the dispatchers would have to hand write out cards and send down to another employee to file," said Myron. "Our IT team found a better way by storing all of the communication in the computer for much easier access."
Creating software to contain the notes and track each incident made their work more efficient and more accurate. Plus, it caught the attention of IBM. The giant technology company sent their engineers to Overland Park to see how they were using it and to improve their own software.
Diversity on his team was important to Myron, however, he admits he wasn't so sure about including women on the police force years ago. Once it happened, it didn't take long before he discovered the tremendous value women brought to the department.
"When there was a disturbance, a family disturbance, a fight at the bar, the female officers would show up and would quiet the situation," Myron said. "Just their presence at a disturbance would calm things down, and so I changed my mind about that."
Myron's accomplishments while serving as Chief were so significant that the city did something significant to honor him in 2007. The next time you drive by 85th & Antioch take a look to the west and you'll see that they renamed one of the police stations – the Myron Scafe Building.